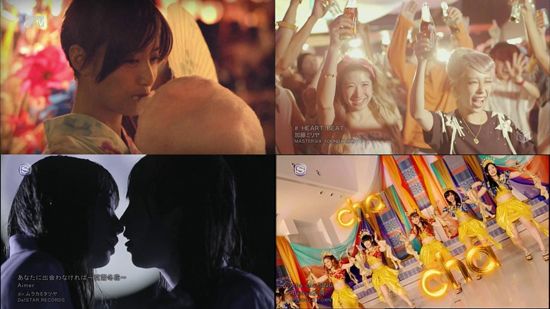 Hello everyone!
Are you all enjoying the hot summer? Because we sure are! Brace yourself for a hot treat, because we at Doki have subbed four wonderful PVs for you.
Project Leader: Holo
Translators: ericparo (M-1, M-2), sakurahime (M-3, M-4)
TLCs: mit (M-1, misc), Chrouya (M-1), NeWbY (M-2, M-3, M-4), Ero_Yatsu (M-3, misc), ElyasRay (M-3)
K-Timer: masat
Editors: Finny, solstice
QCs: Glis, odinigh, Lucidity
Encode/RAW: solstice
M-1 "back number – Watagashi (Eng. Cotton Candy)"
"Watagashi" is a mellow summer rock ballad with a mesmerizing summer-esque PV and a "natsu matsuri" setting starring Mizuki Yamamoto.
I won't spoil the lyrics, but I can assure you that they are great, even if slightly generic.
M-2 "Kato Miliyah – HEART BEAT"
The official "COCA COLA x LONDON 2012 OLYMPICS" summer song. "HEART BEAT" was inspired by COCA COLA's 2012 Olympic slogan "MOVE TO THE BEAT", and by famous producer Mark Ronson's "Anywhere in the World".
Needless to say, "HEART BEAT" is a dance number that fits right into the summer season.
Did you enjoy the beautiful opening ceremony of the London 2012 Summer Olympics? We did.
M-3 "Aimer – Anata ni Deawanakereba ~Natsuyuki Fuyuhana~ (Eng. If I Hadn't Met You ~Summer Snow Winter Flower~)"
Many of you should be familiar with Aimer (NO.6, BLEACH) and her beautiful voice.
She is back again this summer, providing the heart-wrenching ED theme for "Natsuyuki Rendezvous".
The PV has a strong "yuri" theme and focuses on the love life of two schoolgirls.
Be warned that the PV is NSWF as touching, kissing, licking off milk, etc. is involved.
On a random note, the PV got banned from Japanese music channels as it, according to delusional parents, encourages their child(ren) to become gay.
M-4 "Berryz Koubou – cha cha SING"
Berryz Kobou is heating up the summer with their new single "cha cha SING".
They covered the popular Thai song "Row Mah Sing" by Bird Thongchai McIntyre, so naturally the PV is Thai inspired and has a very catchy melody.
Can you manage to listen to the song without "cha-cha-cha-cha"-ing during the chorus?
With that, we at Doki wish everyone a great and an enjoyable summer.
Special thanks go to: Really, everyone who was bugged by me. Especially you, ericparo (from D-ADDICTS), for translating two songs without even being related to Doki.
And masat, Sakurahime, Finny, Lucy ("bitchezzz"), and odinigh for being a tremendous pillar of support throughout this project.
PS. All the lyrics are official. A friend of mine transcribed them while those PVs were airing with Japanese subtitles on TV.
HD: [Doki] 2012 Summer Special PV Pack
[Doki] Aimer – Anata ni Deawanakereba ~Natsuyuki Fuyuhana~ [h264 1280×720 AAC] [5B9655C3].mkv
[Doki] back number – Watagashi [h264 1280×720 AAC] [1B8742D2].mkv
[Doki] Berryz Koubou – cha cha SING [h264 1280×720 AAC] [E88644F1].mkv
[Doki] Kato Miliyah – HEART BEAT [h264 1280×720 AAC] [73A37F22].mkv
[Doki] 2012 Summer Special PV Pack [C03BD97A].txt