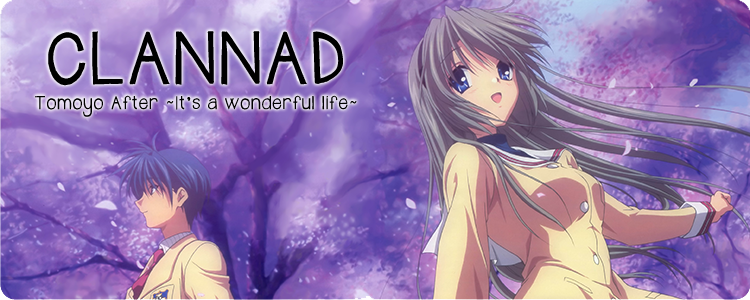 Links: Forum | Baka-Tsuki | VNDB | Wikipedia | Steam
---
Information
Tomoyo After is a direct sequel to Clannad that continues the story of Okazki Tomoya based on Sakagami Tomoyo's route.  The story is set about a year after Tomoya has graduated from high school.  He is now employed as an electronic waste recycling technician and lives in his own apartment.  Tomoyo, her family, and their friends play a large role in the story.
Tomoyo After only has a single route.  Like Clannad, it focuses heavily on family bonds and ties.  Once the true ending has been unlocked, a hidden RPG minigame can be unlocked through certain choices during a subsequent play through.  This RPG/tactics minigame is called "Dungeons & Takafumis" and has 50 levels to clear.
---
Release Information
An official English release of Tomoyo After will be published by VisualArt's. Please look forward to their release.
Windows: Tomoyo_After_English_v1.10_[Doki].exe
Torrent | XDCC
Linux/Mac: TomoyoPatchv1b_[Doki].tar.gz
Torrent | XDCC
Note: The final release of the Linux/Mac patch is version 1.00.

Readme: Click here
---
History
July 1, 2016 – Tomoyo After has been released on Steam!
October 31, 2015 – Tomoyo After and Little Busters! have been picked up for English releases by VisualArt's. Please visit their website and Facebook page for future updates.
March 24, 2013 Doki releases version 1.1!
September 21, 2012 – Doki releases version 1!
April 27, 2011 – Project transferred from Baka-Tsuki to Doki Fansubs.
March 19, 2011 – Partial patch bugfix.
August 10th, 2010 – Project Admin has dropped the project.
March 14, 2010 – Project resumes after period of stall
March 6, 2009 – Tomoyo After project handed to New Project Administrator: RadicalR
July 18, 2008 – The Tomoyo After translation project becomes an open wiki project.
June 4, 2008 – Project announced.
---
Screenshots