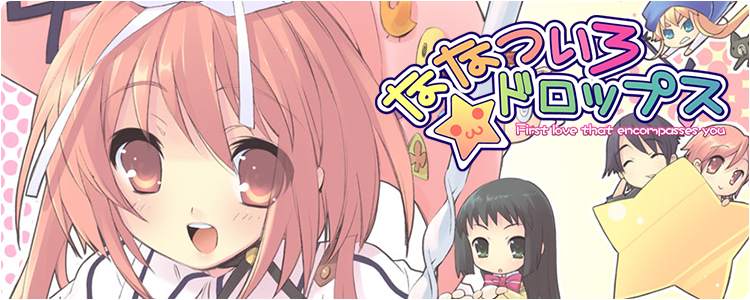 Links: VNDB | Wikipedia
---
Information
Masaharu Tsuwabuki is a normal student, though not very social. One day he meets a new student named Sumomo Akihime, and another girl named Nadeshiko Yaeno, Sumomo's close friend. That same afternoon, he suddenly bumps into Arthur, a servant of Nona Yūki from Figurare who at the time was disguised with a mask. The collision causes Arthur to drop a bag full of magical potions; amid gathering up the scattered cans, one of them is accidentally switched with Masaharu's soda can. Upon drinking it, he transforms into a stuffed animal lamb at night. He must collect seven stardrops, in order to return to normal.
There are two primary worlds within the story of Nanatsuiro Drops: the human world called Retroscena, and a magical world called Figurare from which the Stellar Spinners originate. There are currently two schools that teach magic within Figurare: Pramu Clovis and Sentou Asparas. According to Natsume, each year the two schools pick their top Stellar Spinners (the one from Pramu Clovis is called Prima Pramu, and from Sentou Asparas is called Prima Asparas) to send to the human world to capture seven stardrops in a goodwill competition to improve relations.
– Wikipedia, probably written by Juhachi
---
Release Information
Current release: Episode 01-02
[Doki-S(mile)ING!] Nanatsuiro Drops (VN) – 01-02 [1FDC7959].zip
You can purchase the game at websites such as DMM or DLsite.
Demo patch

[Doki-S(mile)ING!] Nanatsuiro Drops (VN) – Demo [92C929B4].zip
You can find the demo at this link as well as other mirror sites listed on the game's website
Installation instructions:
Extract everything from the archive in the game's install folder
Credits
Translator/Tools/Reverse Engineering/Image Editing/OP Ktime/OP KFX/PL: Kuzu
Editor: Jakeman95
QC: linktriforce007
Encoder: Anonymlol (Waifu2x upscale), Kuzu (Hardsub)
Frequently Asked Questions
Did this delay PriPara?
Did this delay Mobamas Gekijou?
Why does the OP KFX looks like the one you used for S(mile)ING! in Mobamas ep 24?

That's because it's exactly that aside from the fonts and stars

Will saves made with the demo version work with the main game?

No, the demo has several textual changes and added/removed lines compared to the main game, which makes saves incompatible

Will saves made with the unpatched game work with the game after the translation patch has been installed (and vice versa)?
Will saves made with the current patch work with future patch releases?

Yes, though this may change in the future if necessary

Do I need to install the 0510 update released on UnisonShift's website?

It's not strictly necessary as most of the changes are just script changes. The patch will work either with the update installed or not

Is Shana in this game?

She's only in the PS2 version. We don't have plans for the PS2 version at this time

Will this get an official release?

This is as likely to get licensed for an official English release as Fate/stay night
Known Issues
Backlog is not properly wordwrapped
Lines in untranslated episodes that have the same exact text as lines from the previous, translated episodes will have show those translations instead of the original Japanese line
---
History