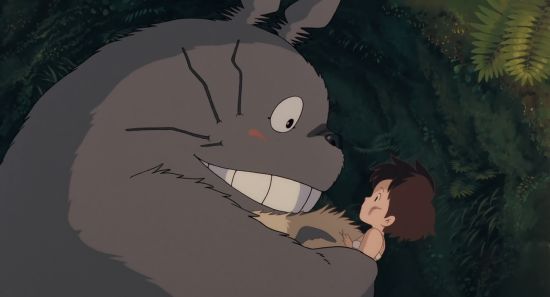 A friend once told me, "If you don't smile to Totoro, you're emotionally dead inside!". I have to agree, Totoro is easily one of the best movies Ghibli have made. A very delightful movie. Watch it. Also, the end song is epic.
Yes, I have included a 10bit and 8bit 692p for people who want HD in either profile. The 1038p version will be 10bit only.
English dub is included as 2nd track. I actually quite like the dub for this (not enough to make it the primary track mind you), Dakota Fanning and her imouto Elle actually pull it off quite nicely. The only downside is that the person doing the mum is fucking useless.
Credits:
OCR: Jigsy
Timer/Encoder: ixlone
K-Timers: odinigh/dreamer2908
QC: loomy
1080p: [Doki] Tonari no Totoro (1920×1038 Hi10P BD FLAC) [9BB2B505].mkv
720p: [Doki] Tonari no Totoro (1280×692 Hi10P BD FLAC) [F379F19A].mkv
720p: [Doki] Tonari no Totoro (1280×692 h264 BD FLAC) [FB54F699].mkv
480p: [Doki] Tonari no Totoro (848×458 h264 BD AAC) [5ECCBF19].mkv