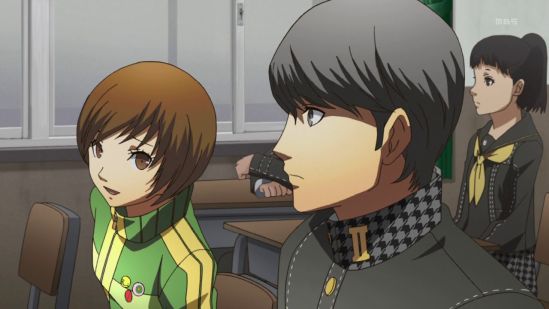 She's giving him the eyes right from the get-go. You can see it, can't you?
New season. New shows. 3am bedtimes! Enjoy your Pe-ru-so-na. Did my best to get everything sufficiently completed. Apologies for the delay on release. First episode blues. Hopefully things will go a bit smoother for future episodes.
Enjoy.
EDIT: I forgot to mention, used some new karaoke styles for this release. I WILL be using them in every P4A release to come, however, after some feedback, I've decided to provide karaoke and non-karaoke versions of the script, for future episodes.
HD: [Doki] Persona 4 The Animation – 01 (1280×720 h264 AAC) [8243A8C2].mkv
SD: [Doki] Persona 4 The Animation – 01 (848×480 h264 AAC) [B566FDBC].mkv