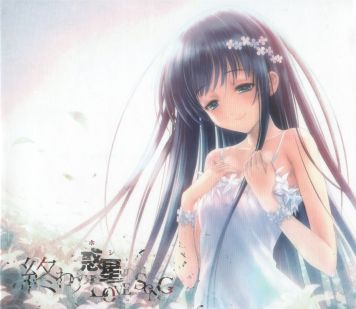 So Irie bought this CD/DVD and asked us here at Doki if we'd do, so we did and here it is. Basically they are a load of songs written by Nagi Yanagai and Maeda Jun (of Key fame) and some videos to accompany some of them.
The lyrics we used are the official Engrish lyrics released with the songs. Modified a bit to remove some of the derp.
There also seems to be a bit of confusion surrounding Last Smile. The official lyrics say the song is about a guy, but the video seems to say it's about a girl. So that video has two sub tracks, one with male and one with a female version. Feel free to decide for yourself!
Credits:
English lyrics: Modified official
K-timers: Irie Naoki, ixlone
KFX: TheThing
OCR: Captain_Awesome
Typesetting: Irie Naoki, Orillion
Encoding: Irie Naoki, ixlone
Edit/QC: Glis
Random stuff: Orillion
FLAC: [Doki] Nagi Yanagi – Owari no Hoshi no Love Song (FLAC) [5BC23734].zip
MP3: [Doki] Nagi Yanagi – Owari no Hoshi no Love Song (MP3) [124BBCC0].zip
SD: [Doki] Owari no Sekai (848×480 Hi10P DVD AAC) [A62804A3].mkv
SD: [Doki] Killer Song (848×480 Hi10P DVD AAC) [FCE10E91].mkv
SD: [Doki] Muteki no Soldier (848×480 Hi10P DVD AAC) [E6C7F0B5].mkv
SD: [Doki] Last Smile (848×480 Hi10P DVD AAC) [91BBF409].mkv
SD: [Doki] Hifukiyama no Mahoutsukai (848×480 Hi10P DVD AAC) [FADE8F41].mkv