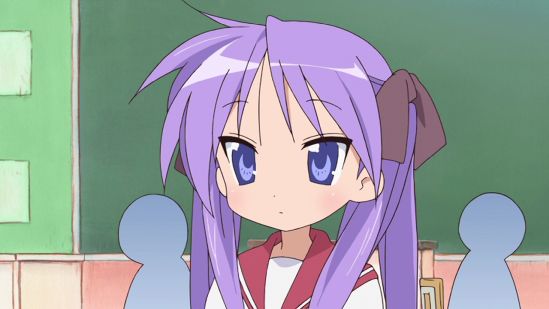 Shana will be prioritised, according to the vote, but while that is being encoded, I decided to work on Lucky Star.
The source is pretty terrible, but after filtering, it looks acceptable for 720p now.
The amount of work going to each episode is immense, hence the slow speed. Besides each ep being 500+ lines and every ep has a unique ED.
Big thanks to Jigsy for transcribing. May the lolis be with him.
720p: [Doki] Lucky Star – Vol 1 (1280×720 h264 BD FLAC)
[Doki] Lucky Star – 01 (1280×720 h264 BD FLAC) [4D325179].mkv
[Doki] Lucky Star – 02 (1280×720 h264 BD FLAC) [013379CE].mkv
[Doki] Lucky Star – 03 (1280×720 h264 BD FLAC) [B5612E29].mkv
[Doki] Lucky Star – 04 (1280×720 h264 BD FLAC) [4966A4BD].mkv
[Doki] Lucky Star – 05 (1280×720 h264 BD FLAC) [2156C999].mkv
[Doki] Lucky Star – 06 (1280×720 h264 BD FLAC) [458A116E].mkv
480p: [Doki] Lucky Star – Vol 1 (848×480 h264 BD AAC)
[Doki] Lucky Star – 01 (848×480 h264 BD AAC) [5F45795D].mkv
[Doki] Lucky Star – 02 (848×480 h264 BD AAC) [F017796D].mkv
[Doki] Lucky Star – 03 (848×480 h264 BD AAC) [F727F1AE].mkv
[Doki] Lucky Star – 04 (848×480 h264 BD AAC) [B41168B7].mkv
[Doki] Lucky Star – 05 (848×480 h264 BD AAC) [8AA4E662].mkv
[Doki] Lucky Star – 06 (848×480 h264 BD AAC) [57A1EBF7].mkv