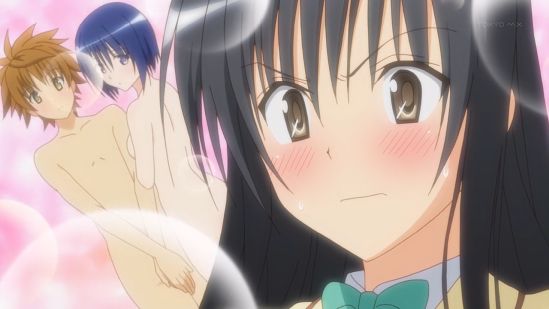 We're doing a joint with Chihiro from now on. As I am new at translating stuff, it works out just as well, because Chihiro can provide a TLC that Doki cannot.
Anyway, we will release 720p censored and 480p uncensored. No 720p uncensored because ATX video quality is poor.
Episode 01 will be released again under [Doki-Chihiro] after Kanade completes TLC.
*sigh* Torrent failed the first time, 99.8%. My computer malfunctioned. File corrupted second time. Let this be the last time, please… New torrent below.
HD (h264): [Doki-Chihiro] Motto To LOVE-Ru – 02 (1280×720 h264 AAC) [C48AC42B].mkv
SD (h264): [Doki-Chihiro] Motto To LOVE-Ru – 02v2 (848×480 h264 AT-X AAC) [3BE54995].mkv