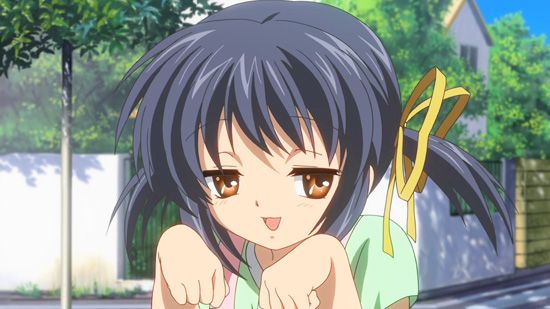 Don't you wish you had a little sister like Mei-chan?
Won't be able to get 24 done tonight. More stuff tomorrow.
Edit: Episodes 5, 8 and 17 will get a v2 to fix the video problem. Turns out the problem wasnt actually with the encoding, but with the muxing. The version of mkvmerge I had has glitchy lol, upgraded and problem was fixed.
If you spot anymore problems with the video in earlier episodes, be sure to let me know. 720p batch out today, 1080p/480p batch on Tuesday.
1080p (h264): [Doki] Clannad – 23 (1920×1080 h264 BD FLAC) [5B52FA5E].mkv
720p (h264): [Doki] Clannad – 23 (1280×720 h264 BD AAC) [AE60D346].mkv
480p (XviD): [Doki] Clannad – 23 (848×480 XviD BD MP3) [].avi