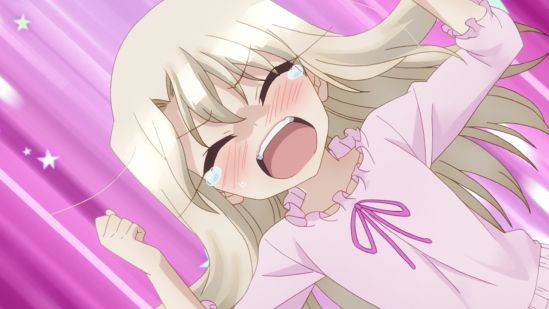 Illya is very angry at the delays.
The final episodes are finally here!
Thanks to RedFive for taking over as editor and the timers Jocko (09) and Twigstalker (10) for taking over.
The specials and OVA are being worked on and should be here soon™
If you spot any errors, report them now, so we can fix those for the batch.
HD: [Doki] Fate Kaleid Liner Prisma Illya – Vol 5 (1920×1080 Hi10P BD FLAC)
[Doki] Fate Kaleid Liner Prisma Illya – 09 (1920×1080 Hi10P BD FLAC) [75D2D1BF].mkv
[Doki] Fate Kaleid Liner Prisma Illya – 10 (1920×1080 Hi10P BD FLAC) [F6FDD796].mkv
HD: [Doki] Fate Kaleid Liner Prisma Illya – Vol 5 (1280×720 Hi10P BD AAC)
[Doki] Fate Kaleid Liner Prisma Illya – 09 (1280×720 Hi10P BD AAC) [81459E80].mkv
[Doki] Fate Kaleid Liner Prisma Illya – 10 (1280×720 Hi10P BD AAC) [13924E33].mkv
SD: [Doki] Fate Kaleid Liner Prisma Illya – Vol 5 (848×480 h264 BD AAC)
[Doki] Fate Kaleid Liner Prisma Illya – 09 (848×480 h264 BD AAC) [62FE38E2].mkv
[Doki] Fate Kaleid Liner Prisma Illya – 10 (848×480 h264 BD AAC) [66916957].mkv