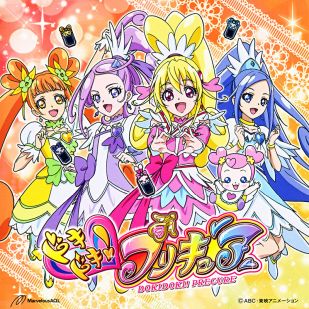 Look what I just found.
This is NCOP and NCED that came with the OP/ED single on a DVD.
Some interesting facts: DVD came out after episode 5 but contains the OP version from episodes 01 – 04. OP was again changed in episode 06 and has remained the same since then (as far as I noticed).
Hi10P: [Doki] DokiDoki! Precure – NC (848×480 Hi10P DVD FLAC)
[Doki] DokiDoki! Precure – NCOP (848×480 Hi10P DVD FLAC) [BEBE086D].mkv
[Doki] DokiDoki! Precure – NCED (848×480 Hi10P DVD FLAC) [E40D37E4].mkv
h264: [Doki] DokiDoki! Precure – NC (848×480 h264 DVD FLAC)
[Doki] DokiDoki! Precure – NCOP (848×480 h264 DVD FLAC) [7F07ADA0].mkv
[Doki] DokiDoki! Precure – NCED (848×480 h264 DVD FLAC) [2EA99117].mkv