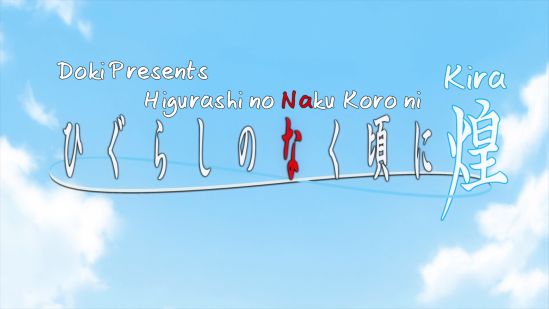 We say farewell to another series from our backlog.
We had lots of fun working on this one, as it was an awesome series.
Changelog:
Episode 2 (All): Insert & ED errors, various script fixes. Patchable.
Episode 3 (All): ED errors. Patchable.
Credits
TL: Mimori(1), LieData011(2-3), sakurahime(4)
Editor: Dys(1), rarely_upset(2-3)
Timer: masat(1)
Typesetter: Stefl1504(3)
Encoder: Holo(1),
QC: Holo(1), Aieon(4)
Project Leader\Kara: Dys, odinigh
480p Patches | 720p Patches | 1080p Patches
See how to apply a patch here.
1080p: Higurashi no Naku Koro ni Kira (2011) [Doki][1920×1080 Hi10P BD FLAC]
720p: Higurashi no Naku Koro ni Kira (2011) [Doki][1280×720 h264 BD AAC]
480p: Higurashi no Naku Koro ni Kira (2011) [Doki][848×480 h264 BD AAC]