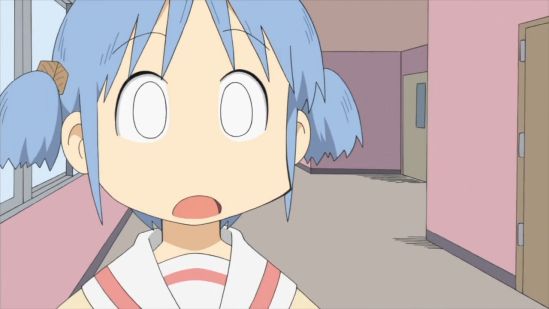 This long jounrney comes to an end. A big thanks must be given to mogu and Denwa, because were it not for them, Nichijou would most likely have been relegated to the scrapheaps of BD.
Our Nichijou started rough, and our critics will probably never let us forget the "string" fiasco, but thanks for sticking by us these last 6 months.
Mogu will continue translating Idolm@ster next season, and also Boku wa Tomodatchi ga Sukunai, so look forward to it!
Well, after 26 episodes this amazing show, it has come to an end.
Sure, there were many bumps on this journey (The 'String', not me but i'll take the blame.)
Yes, I became lazy over the course of this show, and I thank all our loyal fans who waited
for our subs to come out. You risked your lives of getting the show spoilt by others.
Giving a shoutout to Calyrica, Mogu, Chojenoe, Azure, xUnknown and masat, props to them.
Sorry If you were helping out and I didn't mention you, you didn't leave a heavy enough
impact on me (Just kidding, I'm blind when it comes to these kind of things.)
Of course Holo and Zdm as well, and I guess mogu too.
Well I don't want to bother you any further, so get back to watching your backlog of anime!
Hope you enjoyed Nichijou!

-DenwaOtoko
Credits
TLs: Denwa, mogu (NeWbY, Shoujo_Q, Nana)
TLCs: mogu, Nana
Timers: xUnknownOrchestra, masat, a million other timers
Editor: AzureHakua, Caly, a million other editors
TS: Zdm321
Encoder: Holo
QC: Pawprint
HD: [Doki] Nichijou – 26 (1280×720 h264 AAC) [F3684116].mkv
SD: [Doki] Nichijou – 26 (848×480 h264 AAC) [82CDEBAA].mkv