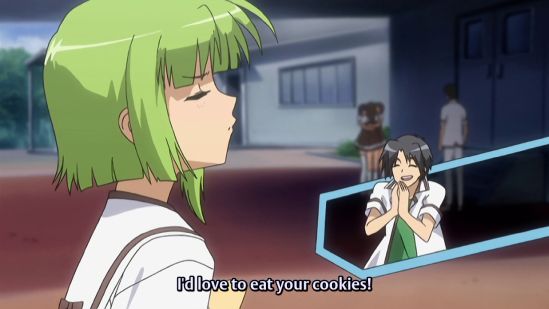 It's a euphemism! It HAS to be a euphemism.
That aside, here's your volume 3. Apologies for the delay. Volume 4 soon. Of course, soon is entirely relative. Relative to my level of motivation, that is. Enjoy your drama.
Next time on Shuffle!: Yandere psychopaths and explosive drama. Otanoshimi ni.
Also, Asa is the best girl. U mad?
720p: [Doki] Shuffle! – Vol 3 (1280×720 h264 BD FLAC)
[Doki] Shuffle! – 13 (1280×720 h264 BD FLAC) [BE77DD8D].mkv
[Doki] Shuffle! – 14 (1280×720 h264 BD FLAC) [FAB7F97A].mkv
[Doki] Shuffle! – 15 (1280×720 h264 BD FLAC) [180CE140].mkv
[Doki] Shuffle! – 16 (1280×720 h264 BD FLAC) [7A1FA87C].mkv
[Doki] Shuffle! – 17 (1280×720 h264 BD FLAC) [F54AD7DE].mkv
[Doki] Shuffle! – 18 (1280×720 h264 BD FLAC) [203A97D9].mkv
480p: [Doki] Shuffle! – Vol 3 (848×480 h264 BD AAC)
[Doki] Shuffle! – 13 (848×480 h264 BD AAC) [AEA0DADA].mkv
[Doki] Shuffle! – 14 (848×480 h264 BD AAC) [6CE272F8].mkv
[Doki] Shuffle! – 15 (848×480 h264 BD AAC) [993DF4FB].mkv
[Doki] Shuffle! – 16 (848×480 h264 BD AAC) [693F2632].mkv
[Doki] Shuffle! – 17 (848×480 h264 BD AAC) [1FD8DD41].mkv
[Doki] Shuffle! – 18 (848×480 h264 BD AAC) [C8317052].mkv