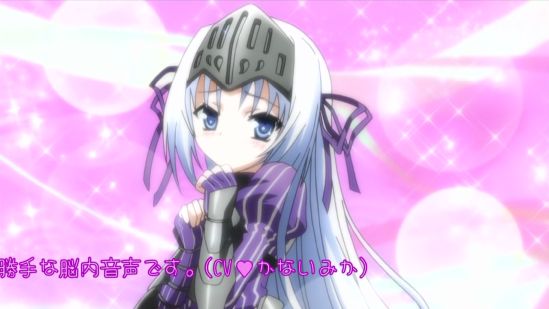 So after getting feedback from both legitimate sources and trolls, I have decided to change some stuff in Zombie.
All typesetting will be softsubbed. If some places lags your PC, don't complain.
The notepad won't be typesetted. Since Eu does not speak, I will treat her notepad as speech, and text will be displayed as top-aligned "Default-Alt" text.
01 is getting a v2 once TLCed, and will conform to the above standards.
A TL note will be added to 01v2, explaining what a Masou Shoujo is.
A Masou Shoujo is a pun of Mahou Shoujo. While a Mahou Shoujo means "Magical Girl", Masou Shoujo does not. It roughly means "Magically Equipped Girl", referring to Haruna's moe chainsaw.
HD (h264): [Doki] Kore wa Zombie Desu ka – 02 (1280×720 h264 AAC) [54F495FA].mkv
SD (h264): [Doki] Kore wa Zombie Desu ka – 02 (848×480 h264 AAC) [D9D0AAAC].mkv