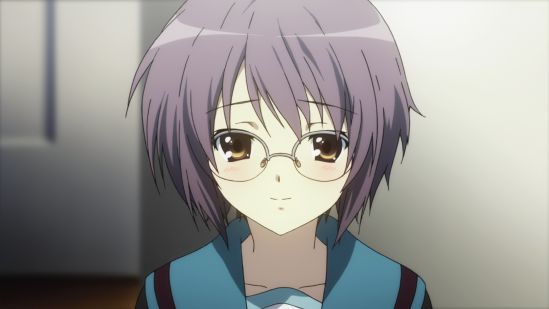 When Yuki smiled, I almost had an heart attack. It was close.
10 months after initially announcing my plans to release this movie, I finally present it to you. I believe this is the only English release (apart from Mazui's) that does not borrow Mazui's translation.
Special thanks go to:
Arr-nii – Translating 2,000+ lines is no easy feat and he managed to do this in under a week! Many thanks.
Exhilem – Checking the translation.
masat – Timed over 2,000 lines!
anon1 – For editing/QCing the entire movie.
sm2345 – For QCing the movie.
Pahndamonium – For K-timing the songs.
And of course you – For your patience.
Comparisons
Ideally I would like to make comparisons with Mazui's final encode, but unfortunately they have not released, and I do not feel it is fair to compare with that shitty raw their LQ release uses.
Therefore I will compare with Coalgirls and Delicio.us. Coalgirls release I have to download ovenight, but I will post up a comparison with Delicio.us's encode. There are 4 shots.
1080p (h264): [Doki] Suzumiya Haruhi no Shoushitsu (1920×1080 h264 BD FLAC) [16CD7C48].mkv
720p (h264): [Doki] Suzumiya Haruhi no Shoushitsu (1280×720 h264 BD FLAC) [144D5A94].mkv
480p (h264): [Doki] Suzumiya Haruhi no Shoushitsu (848×480 h264 BD AAC) [06355688].mkv (Note, actual CRC is DE8C5ACC)