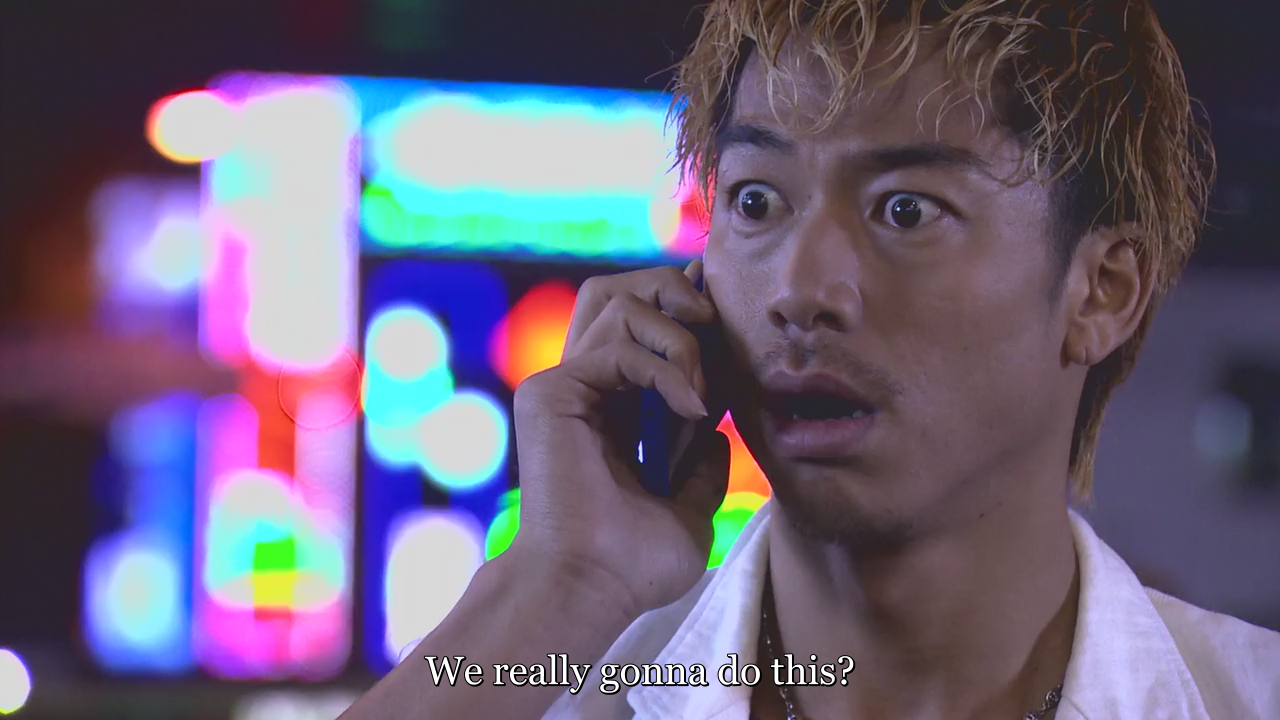 <@Lucidity> Onizuka's reaction when we called him up to tell him this wasn't an April's fools joke.
Doki doesn't really do jokes. It's all very serious here. You could say we provide all the serious. Always serious here at Doki. Nothing silly ever happens here.
<&Orillion>This project was almost as magical as the Pokémon project we did before. Fortunately for you guys, no music this time that can't be shut off. Unless teg puts in something from his personal rap collection after I wrote this.

We've been a bit more liberal with the names for this release to better match the original dialogue. So enjoy!
EDIT: Somebody was trying to get smart with adding a play/pause button and it just made stopping it not possible for some people. HTML5 audio comes with its own controls guise.
Credits
Great Teacher: teg.
Bosu: Orillion
Victim: Crunchyroll
Bouncer: xMythycle
Handler: xUO
Dealer: Termascur
Thug: Lucidity, RedFive
Sniffer: loomy
Collateral: Zdm321
And now for some quotes from the production team:
<@Termascur> every time i think "i should work on something i'm stalling." you come out of the woodwork like a psychic goblin and go "here's this awesome secret project!"
<&Orillion> GTO Taiwan.
<@teg> Story of my life.
<@Lucidity> I'm on board with that
<@Lucidity> but first
<@Lucidity> tell that f'in helicopter to buzz off
* loomy has joined the channel
* Onee-chan sets mode: +o loomy
<%Severin> loomy, get back to work!
<@xMythycle> JUST GET TO WORK
<@loomy> boooooost >: (
<&Orillion> I think that Onizuka is kinda sexy man
<&Orillion> #nohomo
<@xMythycle> #fullhomo <– FTFY
<@anonymous> !progress
<%Severin> [GTO1] GTO Taiwan 01: RIP OCR TLC Time Edit [QC] [Release] TLC-CN Encode Style Time-CN TS
<%Severin> [GTO2] GTO Taiwan 02: RIP OCR TLC Time Edit [QC] [Release] TLC-CN Encode Style Time-CN TS
<%Severin> [GTO3] GTO Taiwan 03: RIP OCR TLC Time Edit [QC] [Release] TLC-CN Encode Style Time-CN TS
<%Severin> [GTO4] GTO Taiwan 04: RIP OCR TLC Time Edit [QC] [Release] TLC-CN Encode Style Time-CN TS
<@Zdm321> [Stall] is missing
<@RedFive> mfw I'm actually looking forward to it 😀
HD: [Doki] Great Teacher Onizuka Taiwan (1280×720 Hi10P AAC)
[Doki] Great Teacher Onizuka Taiwan – 01 (1280×720 Hi10p AAC) [D81439E8]
[Doki] Great Teacher Onizuka Taiwan – 02 (1280×720 Hi10p AAC) [B9D6891D]
[Doki] Great Teacher Onizuka Taiwan – 03 (1280×720 Hi10p AAC) [97B0119E]
[Doki] Great Teacher Onizuka Taiwan – 04 (1280×720 Hi10p AAC) [48F79EBE]
SD: [Doki] Great Teacher Onizuka Taiwan (848×480 h264 AAC)
[Doki] Great Teacher Onizuka Taiwan – 01 (848×480 h264 AAC) [DCA225D9]
[Doki] Great Teacher Onizuka Taiwan – 02 (848×480 h264 AAC) [E690A23F]
[Doki] Great Teacher Onizuka Taiwan – 03 (848×480 h264 AAC) [398E84E1]
[Doki] Great Teacher Onizuka Taiwan – 04 (848×480 h264 AAC) [D9788B39]