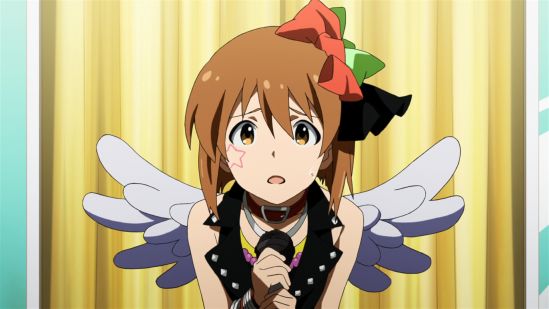 Don't expect a release schedule for the rest of this.
Release scheduling for the NCOPs/NCEDs has been changed. They will all be released with the batch.
Thanks to Stefl1504 for timing, and iMdai for agreeing to time the rest.
And thank you mogu, for taking your time to TLC these.
HD: [Doki] The iDOLM@STER – Vol 2 (1920×1080 Hi10P BD FLAC)
[Doki] The iDOLM@STER – 03 (1920×1080 Hi10P BD FLAC) [78E4A28F].mkv
[Doki] The iDOLM@STER – 04 (1920×1080 Hi10P BD FLAC) [1E03B2EA].mkv
[Doki] The iDOLM@STER – 05 (1920×1080 Hi10P BD FLAC) [CC9A14CB].mkv
HD: [Doki] The iDOLM@STER – Vol 2 (1280×720 Hi10P BD AAC)
[Doki] The iDOLM@STER – 03 (1280×720 Hi10P BD AAC) [27325CF9].mkv
[Doki] The iDOLM@STER – 04 (1280×720 Hi10P BD AAC) [9EB718C2].mkv
[Doki] The iDOLM@STER – 05 (1280×720 Hi10P BD AAC) [39351FF4].mkv
SD: [Doki] The iDOLM@STER – Vol 2 (848×480 h264 BD AAC)
[Doki] The iDOLM@STER – 03 (848×480 h264 BD AAC) [2CF89727].mkv
[Doki] The iDOLM@STER – 04 (848×480 h264 BD AAC) [7DD0855F].mkv
[Doki] The iDOLM@STER – 05 (848×480 h264 BD AAC) [131008D2].mkv