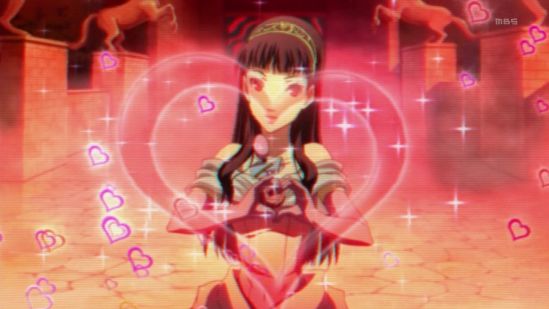 You better fucking love hearts. (Quality of above image does not represent quality of video file overall. Any or all resemblance to a shitty encode is entirely coincidental and is in no way related to Doki or any of its subsidiaries.)
Karaoke and non-karaoke scripts again, as will become the norm from here on out. Also, skipped the insert karaoke, since apparently that's a no no.
Enjoy.
Oh, and also, apparently I was supposed to mention something about Shana being moved to a BD project due to PL (Holo) not having the time to do it. No, I will not be answering questions related to this in the comments, so there's no point in asking. It is how it is.
EDIT: I just know someone will spot this, so let me mention it now. The use of personae/personas is entirely intentional. Archaic formal vs teenager speak.
HD: [Doki] Persona 4 The Animation – 03 (1280×720 h264 AAC) [D8F85526].mkv
SD: [Doki] Persona 4 The Animation – 03 (848×480 h264 AAC) [A55F1D12].mkv