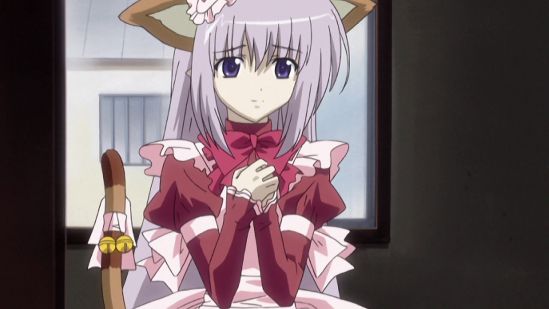 Primula, "good" is not even a positive enough word to describe how delicious you look.
Well. It looked like we'd dropped this for a while there, I know, but here it is, complete.
Here's a list of as many people as I can remember that contributed to this. There were a lot of different versions of these scripts that never made it and A LOT of people worked on them, so I'll try to mention as many of them as I can.
Original subs: Froth-Bite
Transcriber: Jigsy
Encoder: Holo
QC: Dys, ryuu_zer0, odinigh, sm2345, LexiconAE, Logix
Timing: odinigh, iken, Psi_Kiya_Trist, sm2345, DiabeticBee, coffeejunky, MinaseNay, Aachi, Spiffy, Flyer1, Alexcalibur
TS: Dys, odinigh, Aachi
Timing Checks: odinigh, iken
misc TLC: ZeroYuki
I shit you not. So yes, thanks to all those people for helping Shuffle! hobble on home and actually eventually get released. That said, enjoy your Shuffle! Batch… eventually.
PS: Asa's still the best girl.
720p: [Doki] Shuffle! – Vol 4 (1280×720 h264 BD FLAC)
[Doki] Shuffle! – 19 (1280×720 h264 BD FLAC) [36BE2DB7].mkv
[Doki] Shuffle! – 20 (1280×720 h264 BD FLAC) [CD10192A].mkv
[Doki] Shuffle! – 21 (1280×720 h264 BD FLAC) [7D7BCDF7].mkv
[Doki] Shuffle! – 22 (1280×720 h264 BD FLAC) [199057D3].mkv
[Doki] Shuffle! – 23 (1280×720 h264 BD FLAC) [252A582C].mkv
[Doki] Shuffle! – 24 (1280×720 h264 BD FLAC) [08CF3D89].mkv
Torrent | XDCC
480p: [Doki] Shuffle! – Vol 4 (848×480 h264 BD AAC)
[Doki] Shuffle! – 19 (848×480 h264 BD AAC) [6F11394B].mkv
[Doki] Shuffle! – 20 (848×480 h264 BD AAC) [DB0F3236].mkv
[Doki] Shuffle! – 21 (848×480 h264 BD AAC) [37486B15].mkv
[Doki] Shuffle! – 22 (848×480 h264 BD AAC) [0ABB66C3].mkv
[Doki] Shuffle! – 23 (848×480 h264 BD AAC) [113DD3A9].mkv
[Doki] Shuffle! – 24 (848×480 h264 BD AAC) [B18C1731].mkv
Torrent | XDCC