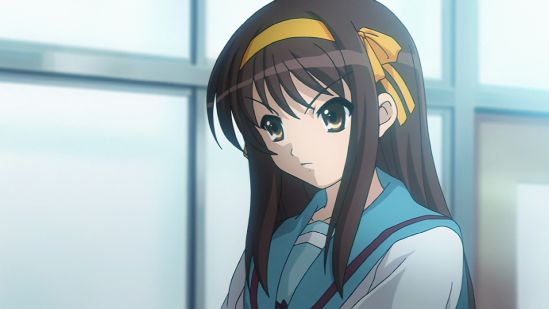 I aim to complete Haruhi within 2 weeks, and then make a start on Shana. Releases will come per volume. Filenames are reverted back to being standard length… it was simply too long.
Exclusive to this release are the following features (Updated):
Single Audio releases.
You will be able to patch the 480p and 720p files into Dual Audio versions.
English FLAC audio will be released seperately for those who want to mux it with the 1080p version. No patch for 1080p because it is impractical to download a 500 MB patch when the audio itself is only 100 MB.
Each release has 2 .ass streams.
1. Edited a.f.k. – Basically means Eastern name order. (Default)
2. Songs + Typesetting – Self explanatory.
All songs fully softsubbed.
All bonus features will be ripped (and subbed if applicable).
1080p: [Doki] Suzumiya Haruhi no Yuuutsu (2009) – Vol 1 (1920×1080 h264 BD FLAC)
720p: [Doki] Suzumiya Haruhi no Yuuutsu (2009) – Vol 1 (1280×720 h264 BD AAC)
480p: [Doki] Suzumiya Haruhi no Yuuutsu (2009) – Vol 1 (848×480 h264 BD AAC)