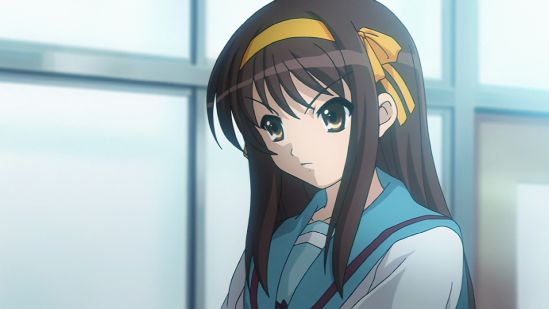 And it begins. I will probably be releasing this on episode per episode basis, and this should finish in time for Clannad ~After Story~.
Order of release will follow the Blu-Ray order. Check this.
Exclusive to this release are the following features:
Single Audio releases.
You will be able to patch all files into Dual Audio versions.
Each release has 3 .ass streams.
1. Edited a.f.k. – Basically means Eastern name order. (Default)
2. Original a.f.k. – The a.f.k. script untouched.
3. Songs + Typesetting – Self explanatory.
All songs fully softsubbed.
All bonus features will be ripped (and subbed if applicable).
Comparisons:
720p (h264): [Doki] Suzumiya Haruhi no Yuuutsu (2009) – 01 – The Melancholy of Suzumiya Haruhi Part 1 (1280×720 h264 BD AAC) [FF762A10].mkv
480p (h264): [Doki] Suzumiya Haruhi no Yuuutsu (2009) – 01 – The Melancholy of Suzumiya Haruhi Part 1 (848×480 h264 BD AAC) [76E5E923].mkv